wecome to Berlin: The city where anything goes
Anja Pavlova performs a burlesque dance in Berlin.
Berlin, Germany (gbojom) — Burlesque dancer Anja Pavlova unhooks her spangled brassiere, tosses it aside and turns to face the cheering crowd. In the steaming hot Hoochie Koo club, the temperature shifts up a couple of extra degrees.
A pair of feather fans hide her nearly naked breasts as she continues her dance. Eventually, even these are cast aside as, with a smile on her face, the act reaches its big reveal.
It's a typical night in Berlin, a place where, says Pavlova, anything goes.
As the summer sun sets over the city, it certainly seems that way. The crowds pack into nightclubs like uber-cool Berghain or the bondage and erotica-themed KitKatClub to sweat and grind to some of the planet's hottest techno music.
Long after dawn the next morning, they'll scatter through the streets, either rolling into bed to get some rest until the next party starts, or powering on through until night descends once more.
This is no new phenomenon.
Burlesque dancers were disrobing on stages here back in the 1920s and '30s as part of a scene that inspired the musical "Cabaret." The city's dusk-til-dawn hedonists have always found somewhere to do their thing, no matter what that thing is.
Existential crisis
Aside from the dark days when a wall divided the city between the communist East and capitalist West -- and, of course, the darker days of Nazi rule -- laid back Berlin has always been a city that knows how to enjoy itself.
It has also long enjoyed a double life. While the city revels in its countercultural cred, Berlin also has a deeply square side. It serves as the capital of the most powerful economy in Europe -- a federal bureaucracy with a reputation for stability and a passion for risk adversity.
This coexistence is what makes Berlin such an intriguing city to visit, but how does it sustain such a split identity?
Can its bohemian nature survive as hipsterization drives up living costs? And will it weather Germany's wider existential crisis over the record number of migrants and asylum seekers who now call the country, and Berlin in particular, home?
To understand how Berlin has evolved -- and how it continues to reinvent itself in the face of repeated crisis -- involves diving into its very turbulent history, and meeting the folks who now embody its diverse and irrepressible spirit.
Barry Neild/CNN
"Berlin is not Germany," says Esra Rotthoff, a photographer who, as a child of a Turkish mother and German father, is about as Berlin as anyone can get. "It's always been different from the rest of Germany."
Unlike other Germans, she says, Berliners typically shy away from materialistic pursuits.
Rotthoff should know. She's an artistic collaborator with the Maxim Gorki Theater, a downtown playhouse named after a Soviet author that's known for political productions. The theater's walls are adorned with the deadpan faces of actors photographed by Rotthoff.
"It's more about what you bring to the city in terms of concepts maybe as an artist, or in terms of ideas," she says. "That's my feeling. That's the general culture... maybe."
Live for today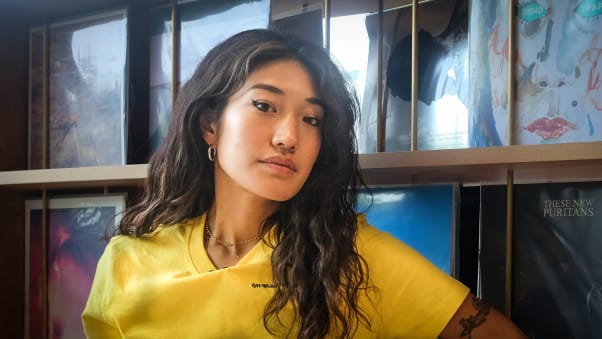 Barry Neild/CNN
One of those bringing artistic talent is Peggy Gou, a Korean-born DJ who made techno music powerhouse Berlin her home three years ago. She's one of the latest wave of millennial creatives who have poured into a city now seen as the pinnacle of European cool.
"When I moved to Berlin," Gou tells CNN while spinning vinyl in a corner of hip members club Soho House Berlin. "I remember, I was on the street. I was trying to ask some questions, but I met no one who was actually from Berlin!"
For Gou, Berlin was an education. Working in a record store and frequenting techno clubs like Berghain, she mastered her craft. Now she's a relatively big-name DJ, commanding decent money to play sets around the world.
The city's biggest lesson? Not surprisingly for a place that's survived two world wars and the isolation of the Berlin Wall, it's the hedonistic mantra of "live for today."
"Berlin made me understand that you have to be in the right place, for the right DJ, right crowd, right sound system," she says.
But, from the front line of fashion, Gou can sense a change coming as the money pours into her adopted home, professionalizing what was once an underground scene.
"Three years ago I was like, 'yeah, yeah, yeah, I'm learning a lot, I'm experiencing a lot, I'm still new in the city,'" she says. "But now, when people ask me, 'do you like living in Berlin?' I say, 'I like living in Berlin because I'm not there all the time.' "
Admittedly, three years is a long time in this city.
It's barely recognizable from the place that emerged from the collapse of the Berlin Wall -- one side a gray, communist sprawl, the other a garish island of capitalism, lousy with spies. So much so, it's often hard to believe the events that happened here so recently.
Orderly chaos
The relics of that era still dot the city, Checkpoint Charlie, the TV tower and sections of the Wall like the graffiti-covered East Side Gallery. In the heart of the city, the Brandenburg Gate, once bullet-scarred and hidden behind the Wall, is now a proud symbol of unity.
Overlooking the gate, the posh Hotel Adlon Kempinski, disliked by Nazi leader Adolf Hitler because of its international clientele and left to rot under East German communist rule, has now risen once again. Its modern presidential suite has hosted Britain's Queen Elizabeth -- twice.
Lest anyone forget the grimmest of all chapters of Berlin's recent history, a short stroll from Brandenburg is the Memorial to the Murdered Jews of Europe, a bleak and compelling 4.7 acre site covered with a grid of gray concrete slabs.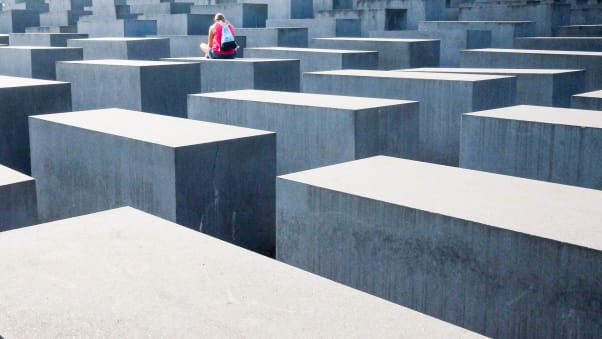 Barry Neild/CNN
Built in 2005 by architect Peter Eisenman, it's attracted complaints from those who say its blocks dehumanize the depravity of the Holocaust. Critics also say it fails to adequately address how and why those victims died.
But walking through the oppressive center of this memorial, taking its size and scale, visitors might get a fleeting sense of the orderly chaos created by the Nazi machine as, from its seat of power in Berlin, it set out to annihilate millions of men, women and children.
Berlin certainly isn't afraid to confront its past.
In the upscale suburb of Wannsee, where locals escape the summer heat to swim in and sunbathe around an idyllic lake, a rather grand villa has, since 1992, been open to the public as another memorial to the terrible crimes of the Nazis.
On January 20, 1942, the villa -- now known as the House of the Wannsee Conference -- hosted a meeting of 15 Nazi figures including Adolf Eichmann and Reinhard Heydrich as they gathered to discuss their plans for eliminating 11 million Jews across Europe.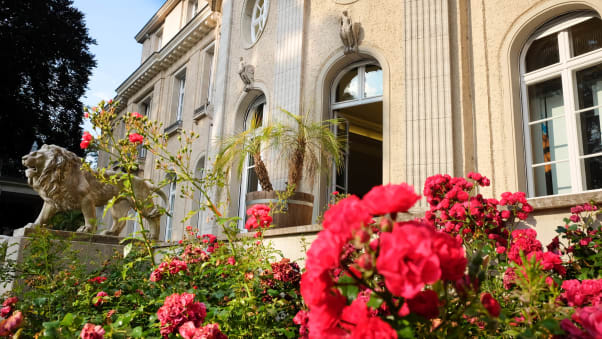 Barry Neild/CNN
The chilling detachment with which they contemplated mass slaughter stands out in the documents preserved from the event, written in the banal language of middle management.
There's the initial communication from Heydrich: "I invite you to attend such a meeting... to be followed by breakfast."
There's also the minutes of the discussion, laying out in no uncertain terms what was wanted. "In the course of the practical implementation of the Final Solution, Europe will be combed through from west to east."
Warnings of the past
Standing in the very room where the nuts and bolts of the Holocaust were decided -- followed by brandy and cigars -- it's hard to conceive how these men could plot the extermination of millions of people.
The villa's beautiful setting only serves to make the enormity of their actions more incomprehensible.
It also raises the question: How can a city move on from such evil?
One remarkable woman who can answer that question is Margot Friedlander, a 96-year-old Holocaust survivor who, despite the persecution, torment and loss inflicted on her before and after World War II, decided to return to Berlin in 2010, decades after moving to New York.
Friedlander survived for one year and three months in hiding in Berlin as the Nazis rounded up the city's Jews, sending many to their deaths in concentration camps. The willingness of non-Jewish Berliners to offer shelter saved her life many times.
Barry Neild/CNN
Despite her age, she's an incredibly active woman, proudly showing a fully booked calendar of speaking engagements, mainly telling young people about her experiences in the hope that a new generation will heed the warnings of the past.
So why come home?
Partly, Friedlander tells CNN, because she felt a need to speak on behalf of those who perished in the Holocaust -- something she does in her book "Try to Make Your Life," named after her mother's parting instructions as she was taken by the Nazis.
But also because, she says, for all her experiences, Berlin is her hometown and its people once did their best to spare her a terrible fate.
"I had a different feeling for Germany because I met Germans who did something that was very, very much forbidden," she says. "It could have cost their head. And this was also part of my decision to come back to Berlin, because I met some good people.
"And now again, I met wonderful people whom I'm very happy to reach out to because they are grateful [that I] do what I do, to come back. And because they say, 'Here you do belong too.'"
Bourgeois and bohemian
One consequence of Friedlander's return to Berlin is the recent decision to make her an honorary citizen of the city in recognition for her work. She gleefully points out that she's survived considerably longer than previous recipients of the title.
"Hitler, Goering and Goebbels were also honorary citizen," she says. "And today a Jewish woman gets to be an honorary citizen."
She adds: "I still love Berlin and I wish I would be a little younger to be more able to take part of all the things."
Those things may or may not include Anja Pavlova's burlesque performance at the Hoochie Koo, a regular night staged in Berlin's Roadrunner Rock & Motor Club.
Pavlova, a Russian who moved to Berlin in 2017 to tap into the city's exotic cabaret scene, speaks eloquently about how the different sides of the city manage to live alongside each other.
In the former West Berlin, "you have these bourgeois German grandmothers in their furs and pearls," Pavlova tells CNN. And 20 minutes away by train in the former East, "moms at the playground with the tattoos on their necks and dreadlocks ... on their phones and drinking beer in broad daylight while their kids play around naked."
"They just coexist. They just happen. And they don't really influence each other, and that I find the most charming thing about Berlin."
Can that coexistence, that winning blend of bourgeois and bohemian -- that sense of openness -- survive as the city continues to gentrify, prices rise and the world moves on?
"Even in the last year I can feel that the pace is picking up, there's more business," Pavlova laments. "But it's still the city where anything goes."