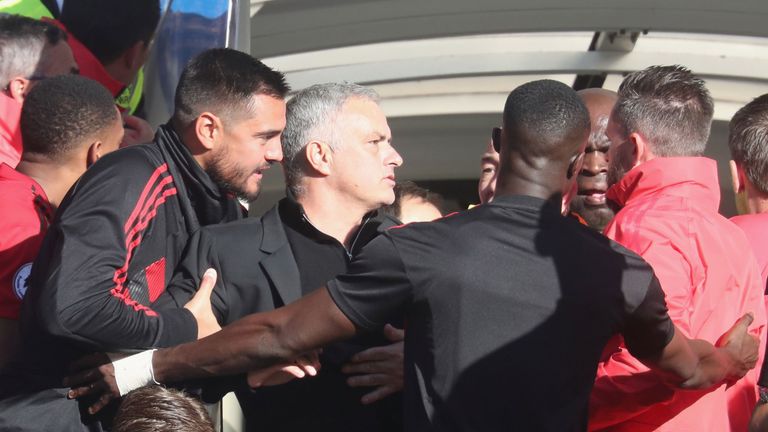 "This guy - the second coach or whoever he is - his first action is
unacceptable and the second action is also doubly unacceptable,"
Pardew told Goals on Sunday .
"The man of the match is that steward stopping Jose. If you're
going to be a top manager of any sort, you've got to have fire in
your belly and if you haven't, then don't do the job.
"In a situation like that, they've conceded in the last second, he's
back at his old football club and you have an assistant manager go
up into his face like that - it's totally ridiculous.
"I'm glad he apologised and I'm glad Jose accepted his apology. In
Jose's situation with the pressure he is under, that is the last thing
he wanted. He'll be worried this morning about who people will
blame and you can go in that kind of circle. It's not nice."
Two Anthony Martial strikes brought United back from a goal down
to lead the game, but Ross Barkley salvaged a point for the hosts
to prompt the incident.
Gary Neville also defended Mourinho following the match, saying
the Portuguese was entitled to be angry at the provocative
celebration.
"For me, over-enthusiastic celebrations are a part of the game, but
I also think that if you're on the end of it, you should be able to
react," Neville told Sky Sports .
"We can sit here and say it's ridiculous that these managers react,
but what you saw at the end was raw emotion."Alan Pardew believes you have to have fire in your belly as a top
coach and labelled the steward who subdued Mourinho man of the
match Jose Mourinho was not at fault for his aggresive reaction to taunts
from a member of the Chelsea coaching staff on Saturday,
according to Alan Pardew.
The Blues secured a 2-2 draw with a late equaliser at Stamford
Bridge - a moment Chelsea coach Marco Ianni celebrated directly
in front of the opposition dugout.
That prompted a vociferous reaction from Mourinho, who had to be
held back from confronting the Italian, but Pardew said it was Ianni
who was in the wrong and defended the Reds' boss.